A prior test is a laboratory test!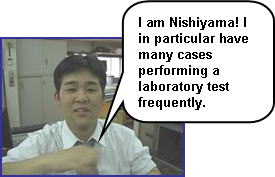 The laboratory test is the thing which seems to be a prior test we really receive some liquid which a custemer wants to mix with a mixer as a sample and mix it with a really small stirrer and watch it, and to examine liquid characteristics.We will have you comment on a laboratory test than Nishiyama of Chief we business here.
There can be the liquid that viscosity is extremely high, the thing that, for example, a theory in the calculation is not good about the liquid churning such as the bond. In addition, I can extremely say a similar thing like "water" and "oil" when properties are different.
In addition, it causes misunderstanding well, but it may not be it to a reasonable stirrer when scale-up just does the result of the laboratory test. A purpose of the laboratory test is to know a liquid property to the last. The time is a difficult place of the mixing unless it comes in a systematization theoretically entirely, and it is the significance of existence of the specialty maker of mixing / the mixer.
Laboratory experimentally one desired

If you are examining mixing in the following conditions, please talk with us.
* A medicine to mix for the first time.
* Viscosity is high to specific gravity.
* Specific gravity and viscosity are unidentified.
In addition, please be careful to the following items.
* The quantity of minimum 2 liters liquid is necessary for a laboratory test.
* The liquid which I cannot treat by general drainage sends it back.
The one hoped for a laboratory test clicks this.