A characteristic of ASP-300 type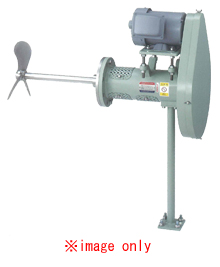 A side type mixer you insert a shaft than the side of the tank, and to use becomes ASP-300 type. You can expect time when a mixing purpose is prevention of sedimentation big result.
It characterizes the maximum in high efficiency by very small power for the merit of the side type mixer to say that it is a compact mixer.
[Smooth, quiet driving sound]
We adopt drive slowdown machine type with the special V belt. We improve it to the type that it is the low noise, low vibration.
[An axis seal device of the durability preeminence]
A grand packing seal method is supplied with it and shows the high durability to various slurries by this seal method. In addition, we have the model by the mechanical seal method with an option abundantly.
[It supports every needs]
It is the stirrer which can cope with the provisional seal method that can change a grand seal by maintenance without draining it of explosion prevention structure, electrostatic measures, a gear drive method and liquid in the tank.
A drawing download
*The dimensions become we catalogue authentic sample. The dimensions of the demand of the visitor can meet it.
*Please download the drawing of a model desired. There are a PDF file and a DXF file.
*Please talk about the short appointed date of delivery separately.
*Please talk about options such as a seal or lining processing with the customer hoped for separatel