The characteristic of the KPS-400 type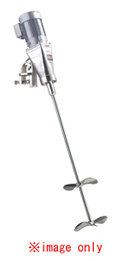 "... which wants rust to make a strong mixer"
It came out of the strong demand of the visitor.
The inspection standard of the factory became severe year by year and has to have come to care about not only the product but also hygiene side to the factory machinery in food / the medicine industry asked hygiene side. It is vertical HPS-500 type to have met these backgrounds and the demand of the custemer. It is KPS-400 type of the portable type.
It may be said that it is the greatest characteristic that the main body of not only the shaft / impeller but also mixer is made by stainless steel even if you say anything. You put a Stainless coat for the painting in a gear motor. They have a great favorable reception in a food factory and a medicine factory in disfavor with rust.
By basic KP-400 type mixer citron Rino silent driving of HANWA, We adopt gear slowdown made by Sumitomo. In addition, as for the HPS-500 type stirrer, there is the following characteristic like a KP-400 type mixer just to be hard to be rusted.
[Smooth, quiet driving]
It is slowdown ratio 1 in slowdown department:We use five Sumitomo slowdown machine. Driving sound is very smooth and is quiet.
[Small lightweighting / simple maintenance]
You can double by plural tanks in one of them. In addition, because it is sealing up type bearing, there is not an outflow of the grease, and the maintenance check is simple.
[A rationalization design by the intersection product]
A mass production was enabled by commonizing a part, and the reduction in cost was realized.
A drawing download
*The dimensions become we catalogue authentic sample. The dimensions of the demand of the visitor can meet it.
*Please download the drawing of a model desired. There are a PDF file and a DXF file.
*Please talk about the short appointed date of delivery separately.
*Please talk about options such as a seal or lining processing with the customer hoped for separately