The characteristic of the HJP-890 type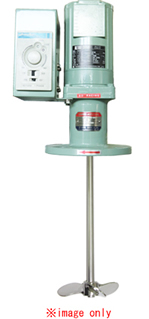 The HJP-890 type is improvement of the HJ-820 type .The HJP-890 type is all models became the outdoor correspondence.
By the small tank of 50 liters - approximately 200 liters it is this HJP-890 type mixer to mix. We realized a price and the short appointed date of delivery when you were easy to have you buy the weight by a super lightweight design and a rational design of only 6.5kg - 9kg. We have the slowdown ratio abundantly, and the shifting type with the speed controller does a lineup, too.

We put a ball bearing on the small main body and, even a small and light mixer, reinforce a bearing. A mechanic airplane produces it with confidence Hanwa as a long-established store proud of the results more than half a century.

[Easy to operate because super lightweight]
While this plane is a vertical mixer; weight is 6.5kg - 9kg. It is very easy, and even a woman can handle smoothly the handling, too.
[Installation flange part durability preeminence]
The durability of the installation flange part is distinguished by carrying an oil seal, bearing.
[Static driving sound.The rotational speed is set responds to the usage]
We accept the use that is of setting turn speed depending on a use and set turn speed as standard equipment. Driving sound is stillness at the same level as an office sound.

A drawing download
*The dimensions become we catalogue authentic sample. The dimensions of the demand of the visitor can meet it.
*Please download the drawing of a model desired. There are a PDF file and a DXF file.

*Please talk about the short appointed date of delivery separately.
*Please talk about options such as a seal or lining processing with the customer hoped for separately