HS-3S / H-3 Manual lifting stand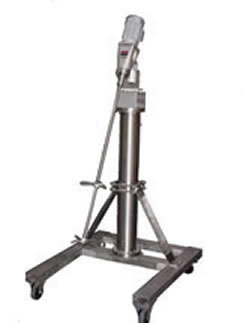 A HS-3S/H-3 Manual lifting stand of the installation is portable mixer.

Easy of installation, vise of the portable mixer on the top of the manual lifting stand, and tightening a bolt.
A H-3S Manual lifting stand can be used at ease because the stopper is attached to the tire.
mixer
It is easy to move to the place that doesn't become obstructive between Mixer doesn't use it.
Because the vertion had improved, a conventional
H-3S manual lifting stand was able to be lightened greatly.
HS-3S of a stainless type treat. (※Warning    photo is HS-3S)

【Easy installation】
This machine is can be set up only by putting the vise of the Transferable on the point, and tightening a bolt.
【Up and down way】
It is possible to go up and down only by turning a handle, and the steering wheel can be turned easily without putting power.
A drawing download
*Please talk about the short appointed date of delivery separately.