The characteristic of the KP-400 type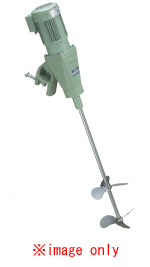 The thing which it is portable, and did HP-500 type of the vertical mixer which gives a favorable reception to me as a constant mixer of HANWA is KP-400 type. We are good at middle speed mixing and carry product made in Sumitomo general-purpose gear slowdown machine Altax NEO.
We have the performance that can stir it to 100 liters - 1,500 liters (water equivalency) even a portable type and accept it, and I am wide, and the power does a lineup with 0.04kW - 2.2kW. We realized the short appointed date of delivery and the price that were easy to have you buy it by increasing common parts by the rationalization design of the part."Is a mixer having they are wide and use it as standard" of one another HANWA in the field of various industry in a lineup of HANWA.
[Smooth, quiet driving]
It is slowdown ratio 1 in slowdown department:We use five Sumitomo slowdown machine. Driving sound is very smooth and is quiet.
[Small lightweighting / simple maintenance]
You can double by plural tanks in one of them. In addition, because it is sealing up type bearing, there is not an outflow of the grease, and the maintenance check is simple.
[A rationalization design by the intersection product]
A mass production was enabled by commonizing a part, and the reduction in cost was realized.
A drawing download
*The dimensions become we catalogue authentic sample. The dimensions of the demand of the visitor can meet it.
*Please download the drawing of a model desired. There are a PDF file and a DXF file.
*Please talk about the short appointed date of delivery separately.
*Please talk about options such as a seal or lining processing with the customer hoped for separately