A characteristic of HMP-800 type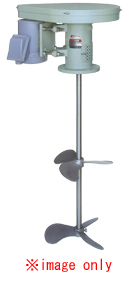 HMP-800 type is a vertical mixer of the flange installation of the inside belt type slowdown machine deployment to be good at churning immediately.A factory tends space to be limited with various machinery. It cut it that was met with the case which said that tank and space space of a ceiling were small; there should be it. HMP-800 type is recommended in such a scene.The height is lower than the vertical mixer of the gear slowdown type, and a space-saving design is given at the time of the tank upper part installation.
The slowdown method adopts a V belt slowdown method to design it compactly.As for the V belt slowdown method, there is the merit to be said to be smooth with stillness during the driving very much.We get a favorable reception very much in the near factory and spot of a macromolecule melter and the residential area tending it to be limited of the space. In addition, it is the model that is easy to perform the maintenance very much.
[Installation simple from the tank upper part]
We can easily install the HMP-800 type stirrer on a flange / a footstool from the tank upper part.
[I give top priority to security]
It is attached and considers sealing up soleplate moon belt cover and a window cover to a reel safely.
[Quiet driving sound]
The newly small V belt realized extremely quiet driving as well as about 2 times conventional super life.
[The compact design that held height in check]
Because we design the height when I was able to possess the tank upper part compactly, We can install height in the comparatively small space. Please talk by all means once.
A drawing download
*The dimensions become we catalogue authentic sample. The dimensions of the demand of the visitor can meet it.
*Please download the drawing of a model desired. There are a PDF file and a DXF file.
*Please talk about the short appointed date of delivery separately.
*Please talk about options such as a seal or lining processing with the customer hoped for separately