An example of the axis oscillation
Introduction company: Paper manufacture maker Company S
An annoyance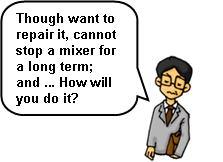 I purchase the mixer of the model to call HSL which I purchased with HANWA ten years ago and install it. A shaft moved slightly very much the other day when I peeped out in a tank during the driving of the mixer after a long absence.
When I peeped out in a tank, an axle moved slightly to some extent, but the present feels it last time so that width of the oscillation becomes big.I repair it, but if the stirrer does not want to stop a mixer for days because I use it every day if it is possible and can repair it at our setting place, I want you to repair it on the spot, but will be possible if possible?
(The voice extract of the consumer)
Examination contents and a result
1:We confirm the use situation toward the spot.
2:The use situation changed at the time of the delivery, and a surface change was performed repeatedly.
3:It is recognized that it is a cause of the axis oscillation by the surface change.
4:We revise the oscillation of the shaft locally and change aching bearing.
5:We suggest use of the inverter to match the local use situation and install it later.
The voice of the customer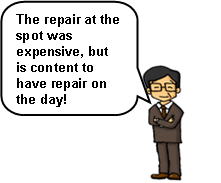 Though was said to "teach a serial number" by HANWA first, leave you unattended outdoors ten years, and is hard to watch the plate; thought that "was troublesome".
When I wiped it with thinner and confirmed it, I was very smooth from there. It was recorded to a then drawing and the state of the order. When I came for repair, it seems to have been prepared for measures so good and finished it in a day. I thought that big influence was the machine which there was only by some current use being different from the then use that they accepted an order of ten years ago.
Because the number of revolutions that accepted the surface by the inverter control that had suggest it can adjust it freely now; axis blurring can run it comfortably without breaking down. Even a mixer ten years ago feels relieved to HANWA supporting with every effort.
(The voice extract of the consumer)
The impression of we person in charge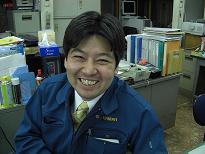 I win through up to an impression by an item of repair in charge of for the first time very much. The uneasiness was big, too, but was able to finish it somehow.
I understand the situation that there was of the then request as well as a drawing entirely what kind of viewpoint my old senior chose a stirrer in than a product number for ten years whether it was specifications to say how. When it was a cause of the axis blurring that there was a surface change when I got a request this time ten years ago, I glared. I felt glad that I had my suggestion satisfy the customer above all.
(By we charge Tokyo Office Shogo Morita)