HSL-760 type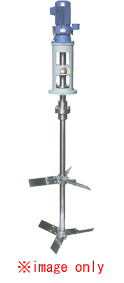 From HP-500 type to HSL-760 type mixer of type flange installation that has generalityItcorresponds to various power and rotaional speeds.

It is also possible to install the seal in the shaft seal part in the option as well as the HP-500 type, and to give the lining processing to the border liquid part.
The HSL-760 type is a mixer that can answer the user's various request. First of all, please consult our business.
It introduces the example of the HSL-760 type.

1.The Cyclo made by Sumitomo general-purpose reducer is installed in power and the reducer.
2.The coupling connection in the tank is possible.
3.It corresponds to big shaft diameter by small power.
4.The combination of kinds of various shaft dimeter and wing is possible.
5.General-purpose low type installed that space in the upper part of tank need not worry

【We can answer sealing up, pressurizing, and decompression, too.】
When using it by the purposes of sealing up and pressurizing up and decompression, etc, the sealed structure corresponding to each demand can be produced by installing the seal in the shaft seal part. Please tell us without reservation.

Please inquire the question and the consultation of the HSL-760 type by all means.
A drawing download
Suggested retail price
The price becomes correspondence by the inquiry because it changes greatly by user's commodity.