The characteristic of the KZP-630 mixer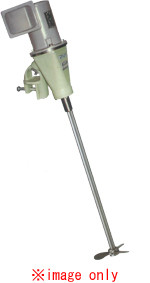 A KZP-630 type mixer is a high-speed mixer of the motor direct connection type that is not equipped with slowdown machine.It is necessary to dissolve with strong mixing to shorten it than, and the normal mixing in time when you want to dissolve the solvent which is hard to melt. A KZP-630 type mixer is the vertical mixer which can realize demanded high-speed mixing.
As for the KZP-630 type mixer, light weight / the high output realizes high efficiency by a strong motor direct connection. 1,750 rounds per minute (the 50Hz area, 1,450 rounds per minute) bring big result by mixing to need shear for not to mention the dissolution of the medicine which is hard to melt.
[More compact lightweight high-speed structure]
As well as small lightweighting, it is easy to have come to perform operation more faster.
[Because is a motor direct connection; more strongly]
We cope with the dissolution for the short times such as the medicines which are hard to melt.
We realized a high-speed turn by a motor direct connection.
*You can have you use it at 1,750 rounds per minute like the 60Hz area in the area of the 50Hz area by having you use inverter.
A drawing download
*The dimensions become we catalogue authentic sample. The dimensions of the demand of the visitor can meet it.
*Please download the drawing of a model desired. There are a PDF file and a DXF file.
*Please talk about the short appointed date of delivery separately.
*Please talk about options such as a seal or lining processing with the customer hoped for separately