A characteristic of KCP-670 type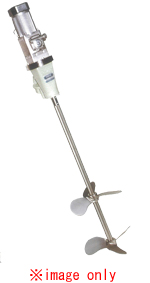 It is the stirrer which carried ring corn made by Nippon Densan Shinpo to the mixer of the portable type. You choose the slowdown ratio depending on a change of the viscosity degree of the solution to stir, and it may be said that it is the energy saving type mixer that can adjust rotary speed.
You have a favorable reception very much by can easily coordinate number of revolutions just to turn the steering wheel of this side attached to the league corn slowdown machine.
You "cannot install inverter, but turn speed of a mixer wants to change" it
You do not "control inverter, but want to sometimes change gears because liquid is different"
It is a ring corn deployment mixer of HANWA which met a voice of such user.We prepare for KCP-670 type and both types of flange installation vertical HCP-870 type and the portable type in us.
[The variable driving that accepted liquid-related viscosity]
You cope with a change of the liquid stirring-related viscosity quickly. Because You can coordinate rotary speed freely, a mixing effect without unreasonableness / waste is provided. It leads to energy saving to avoid unreasonableness / waste.
[It is low tone driving by simple operation]
Because you can operate the continuously variable transmission with a steering wheel, necessary rotary speed is easily provided, and the driving sound is very quiet.
[It is durability up by safe operation]
You can perform the top and bottom drainage of the surface by safe operation surely, too and am superior in the durability.
A drawing download
*The dimensions become we catalogue authentic sample. The dimensions of the demand of the visitor can meet it.
*Please download the drawing of a model desired. There are a PDF file and a DXF file.
| The Model | The Output (kW) | CAD File |
| --- | --- | --- |
| KCP-6700-NRX | 0.06 | DXF  DWG |
| KCP-6701-NRX | 0.09 | DXF  DWG |
| KCP-6702-NRX | 0.2 | DXF  DWG |
| KCP-6703-NRX | 0.4 | DXF  DWG |
| KCP-6704-NRX | 0.75 | DXF  DWG |
| KCP-6705-NRX | 1.5 | DXF  DWG |
*Please talk about the short appointed date of delivery separately.
*Please talk about options such as a seal or lining processing with the customer hoped for separately