A characteristic of KRP-690 type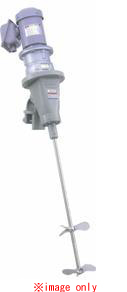 As for the mixer of HANWA, general-purpose tends to use motor slowdown machine made by Sumitomo to keep it, but it may be said that KRP-690 type is a mixer of a portableness type equipped with a motor except the product made in Sumitomo.
It can be equipped with the motor of the designated motor maker of user. Very wide slowdown setting is possible as much as it can be equipped with various motors. The following characteristic is nominated for KRP-690 type.
[It is a high horsepower at the low speed]
It can support various liquid viscosity. As for the slowdown ratio, five phases of number of revolutions can appoint setting freely. A stable horsepower is provided at the low speed.
[Safety and the durability that are high with a gear motor]
We use a gear motor for the drive department. It becomes the superior mixer in safety, the durability by a certain mixing effect.
[We realize the short appointed date of delivery with standardization specifications]
When part freedom of choice degree was high, the appointed date of delivery became very long, but usually largely shortened the delivery time by the high standardization specifications and production system.
A drawing download
*The dimensions become we catalogue authentic sample. The dimensions of the demand of the visitor can meet it.
*Please download the drawing of a model desired. There are a PDF file and a DXF file.
*Please talk about the short appointed date of delivery separately.
*Please talk about options such as a seal or lining processing with the customer hoped for separately